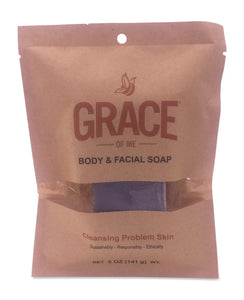 ABOUT THIS PRODUCT
Our Bentonite Clay and Aloe soap is amazing. It is made with vegetable Glycerin (with Carrot and Cucumber oil). Glycerin is a natural skin emollient (skin softener) that attracts water from the surrounding air. Because of this, glycerin is highly prized in soaps, lotions and creams for maintaining moisture in the skin throughout the day.
SIZE
5 oz (141 G)
FRAGRANCE / COLORANT
Lemongrass Essential Oil
Natural color - nothing added to enhance the color
INGREDIENTS
Vegetable Glycerin, Glucitol, Sodium Stearate (from vegetables), Lauric Acid Sodium Salt, Water, Propylene Glycol, Sodium Oleate, Sodium Myristate, Salt, Ground Apricot Kernel, Bentonite Clay, Lemongrass Essential Oil, Glyceryl Laurate, Cocamidopropyl Betaine, Coconut Oil, Sunflower Seed Oil, Sodium Thiosulfate, Sodium Citrate, Citric Acid, Trisodium 2-Sulfonatobutanedioate, Cucumber Oil, Pentasodium Pentetate, Tetrasodium Etidronate, Aloe Barbadensis Leaf Juice Powder, Vitamin A
PACKAGING
With our small batch hand made soaps we prioritize the use of recycled and renewable materials. The brown Kraft envelope used by this product is 100% compostable - an eco-friendly choice. The sleeve is made of Kraft paper with an inner plant-based PLA lining. The packaging is ASTM D 6400 and DIN EN 13432 certified. These certify that the PLA and paper will compost satisfactorily, including biodegrading at a rate comparable to known compostable materials. The outer shipper is also 100% recyclable and made from 100% recycled paperboard with 90% PCC. The pressure sensitive closure uses gum/glue so that we don't need to use plastic tape. Even our thermal shipping label can be recycled or composted.
We favor ingredients derived from nature. 
We support the use of sustainable growing and harvesting practices. 
We source from suppliers that value human & labor rights. 
We don't use animal ingredients (with the exception several products that contain honey and/or beeswax).
Work is underway to minimize the environmental impact of our end-to-end supply chain. Recyclability and biodegradability are heavily favored.
OTHER INFORMATION
Made in the USA.

Use within 30 months of purchase.
This is a hand made / small batch product - size, appearance, and shape vary slightly.